AI Cars drive on AI Waypoint Routes, this tutorial demonstrates how to configure an AI car to drive on a route.
Getting Started
In this tutorial, we will cover the basic concept and procedure of configuring a simple waypoint route that an AI car can drive on.
Open the following scene:


Assets\TurnTheGameOn\Arcade Racer\Scenes\RacingCity_Empty
Spawn an AI Waypoint Route into the scene by pressing Ctrl+Alt+R or selecting Tools/TurnTheGameOn/Arcade Racer/Create/AI_WaypointRoute

Add waypoints to this route by pressing Alt+LeftClick in the Scene View on a Collider.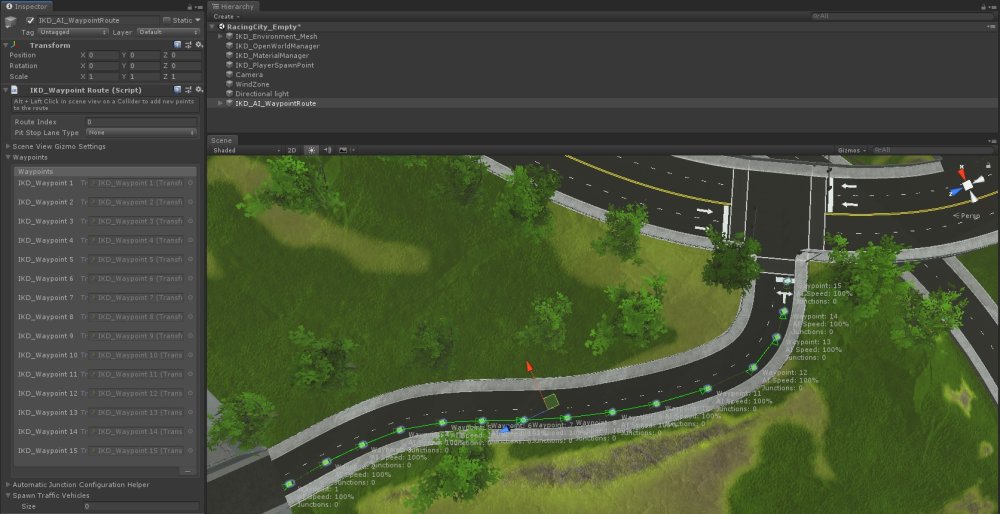 Populate the Spawn Traffic Vehicles array with an AI car prefab; or drag the prefab into the scene and manually assign the Waypoint Route to the

IKDVC

_AI script on the AI car (this happens automatically when the vehicle is spawned by the waypoint route).

Press play to observe the AI behavior.
The AI car should spawn onto the first waypoint, then behave as expected, following the route and stopping at the end.
This tutorial is now complete. Thank you.
Advanced techniques are demonstrated in the Creating A Traffic Simulation tutorial.
Feedback
Thanks for your feedback.