Used by the AI Car prefab for path-finding data.
Prefab location
Assets\TurnTheGameOn\Arcade Racer\Resources\CarAIWaypointRoute
Adding the AI Waypoint Route to a scene
This object can be spawned into the scene by:

Pressing Ctrl+Alt+R
or
prefab location Tools/TurnTheGameOn/Arcade Racer/Create/AI_WaypointRoute



Inspector Overview
Add waypoints to this route by pressing Alt+Left Click in the Scene View on a Collider.
Insert a waypoint between current points by pressing Ctrl+Alt+Left Click.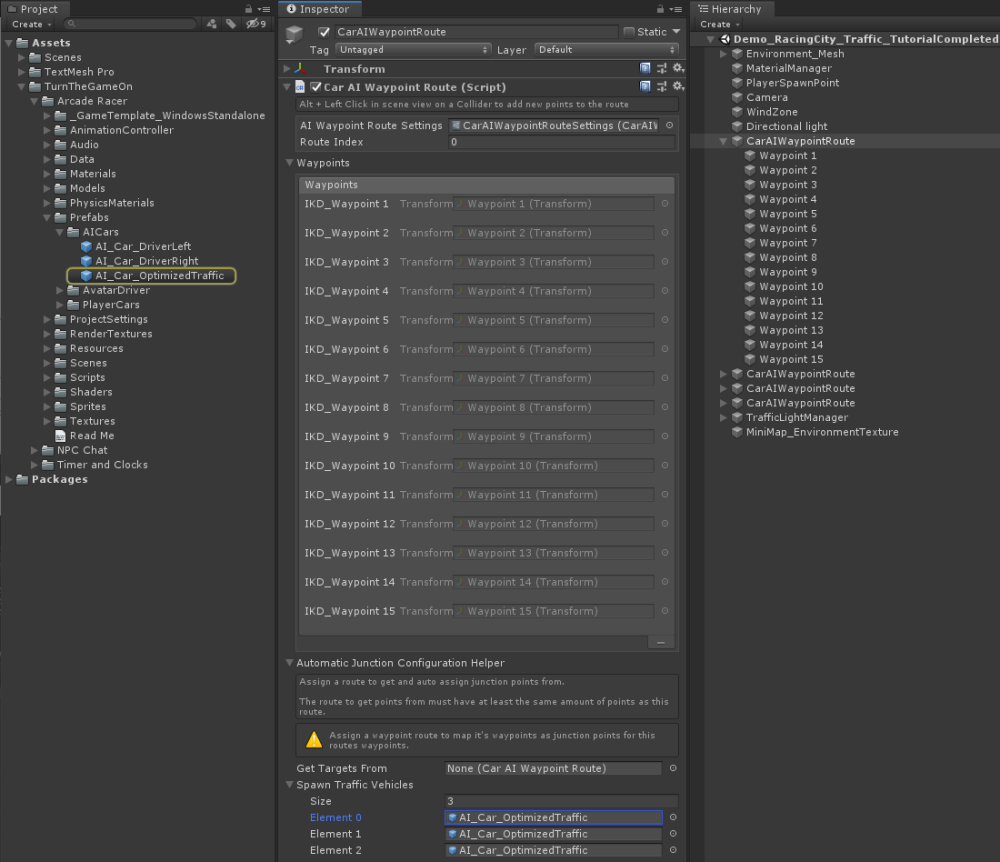 | Name | Function |
| --- | --- |
| AI Waypoint Route Settings | Contains editor debug gizmo options. |
| Route Index | Used by AI vehicles when making a pit stop as to determine which lane to change into for a pit stop. |
| Waypoints | The list of waypoints that make up the route. |
| Automatic Junction Configuration Helper | Assign another route to the Get Targets From field and press the Auto Configure Junction Points button to automatically create junctions to forward adjacent points. |
| Spawn Traffic Vehicles | Populate this array with AI cars that will spawn on route waypoints when the scene starts. |
Car AI Waypoint Route Settings
| Name | Function |
| --- | --- |
| Scene View Gizmo Settings | Configure custom colors for visualizing your waypoint route. |
Feedback
Thanks for your feedback.